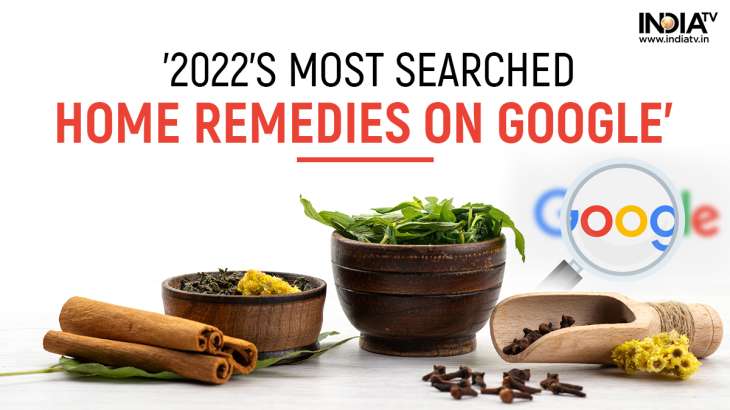 The Coronavirus pandemic brought the world to a standstill. It became impossible for everyone to step out of their house and live their routine life. As people were forced to stay at home, they became more focused on their health. Covid made everyone learn that your health should be your main priority. As the result, people started inclining more toward home remedies. Be it to get rid of a cold and cough instantly to ways to brighten dark lips, people searched for many home remedies on Google. Here are the top 10 most searched remedies in the year 2022.
1. Ear pain home remedies for kids
People frequently searched for home remedies to get rid of the pain in the ears of children. For this, it is beneficial to use clove and garlic oil. It gives great relief from the pain. 
2. Home remedies for dark lips
It happens that in winter, the dryness makes the lips turn dark. Also, it is said that smoking turns the lips black. For this, home remedies include use of coconut oil, beetroot and cream. Scrubs made of sugar are also suggested to remove the darkness of the lips.
3. Home remedies for food poisoning
Food poisoning, which is caused due to unhealthy food and contaminated water, leaves a person suffering. While it is advised to consult the doctor, people often search for tips on Google to get rid of mild food poisoning. In such a situation, it is advised to consume lemon and black salt water first. If it is not available, you can have a soda, which reduces the infection in the stomach. Apart from this, you can also consume things like curd and mint.
4. Home remedy for honey bee sting
The problem of bee sting bothers people many times in life. In such a situation, rub the affected skin with something made of iron to take out the sting first. Then apply ice or apply toothpaste. After that apply honey and leave it.
5. Home remedies for ligament tear
What to do when the ligament tears? This is also one of the most searched queries on Google this year. Ligament tear is common for people who are active in sports and other physical activities. In such cases, ice and heat therapies are considered to be beneficial.
6. How to get periods overnight
Does it happen to you that you get your periods when you least expect them and then, there are times when you want them but it does not happen? Well, people have searched enough on Google this year about getting periods overnight. In such a situation, celery and jaggery are said to be useful Apart from this, consuming hot things can also bring the desired results.
7. How to get rid of gas immediately
In case you are suffering from a gas situation, it is advised to first treat this problem with the help of lemon and black salt. Ginger, cardamom and fennel tea is also effective home remedy. 
8. How to get rid of cough in 5 minutes?
This is also one of the high searched home remedies on Goggle in 2022. However, there is no solution that can reduce the cough in 5 minutes. However, you can get relief from this problem with honey, ginger and licorice. 
9. Stomach flu home remedy
Home remedies for stomach pain include consuming mint leaves, celery water and asafetida and black salt.
10. Home remedy for acne 
Home remedies for acne is also searched a lot this year. In such a situation, things like neem and clove paste and turmeric can help get the desired results. 
Also Read: Monkeypox to Tomato Flu; 10 deadly diseases that stirred the world in 2022